One thing I learned in the past year is that any time a product has the word "wedding" attached to it, the price is at least double what it should be. The first area in which this is apparent is clothing.
For those of you who don't know, wedding dresses can be really expensive; I'm talking thousands of dollars, easily. And that's just at places like
David's Bridal
--
way
before you get into
Vera Wang
and
Monique Lhuillier
territory. That's fabulous if you can afford it-- but what if you're on a tight budget?
My wedding gown cost only $380. Needless to say, I'm really, really proud of that.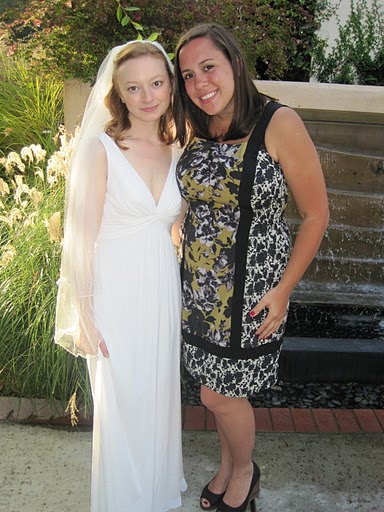 One of my favorite non-husband-and-wife photos from the wedding-- me and my college roommate and dear friend Katie Fernandez
My tips for getting dressed on your wedding day without going broke:

1. Don't go to a wedding or formal dress shop.
You can find the most amazing gowns at
Bloomingdale's
,
Neiman Marcus,
Saks
... really, anywhere they sell clothes for the socialite set. I'd argue that $1000 will go much farther at one of these places in terms of craftsmanship, fabric quality, and tailoring than at a standard bridal shop.
For example, I found a long off-white gown at
BCBG
(the much lower end of the "designer" scale, obviously, but that's just where I wound up finding it.) I'm pretty sure it was meant to be a prom dress, but as soon as I tried it on, I knew it was "the one"-- and it cost just $380!
I took it to my regular tailor to have a large, sewn-on brooch removed from the front and the hem taken up. With just a couple of alterations, it became an exquisitely simple wedding gown.

2. Don't tell the shopgirls that you're shopping for wedding dresses.
Once you mention you're shopping for your wedding, you become the center of attention-- which, I'll admit, can be flattering at first. But soon, it becomes a drag. I started telling shop-people I was trying things on for a special formal party at which everyone had to wear white. I hate to lie, but it really just saved me from so much stress and pressure.

3. Save on the veil.
This one is major. I decided I wanted a veil at the last minute, so the day before the wedding I went to a bridal shop in Santa Barbara. I was shocked when the sales girl told me that their veils cost between
$200 and $1500
. I guess most people just buy a veil at the same time they buy the dress, and mentally, what's another $400 on top of a few thousand? But for me, spending that amount would have
multiplied
my budget! I left the shop feeling a bit embarrassed and very dejected.
But! That same day, my brilliant mom and sister had run to
Michael's
to pick up some ribbons for my flowers (more on that later.) While they were poking around there, they found a wedding veil for just
$15
. It was all bunched up and packaged in a little plastic bag, but when we took it out and steamed it, it was long, silky and gorgeous-- it looked
exactly
like the expensive ones at the bridal shop. So, don't be afraid to walk out of a store empty-handed: It can really pay off to shop around.
4. Buy nice, regular shoes-- not special bridal pumps or "Dyeables."
Shoes are the last thing to cut corners on-- more expensive shoes often just feel better, and comfort is really important on a long day like your wedding. But shoes made just for brides are often overpriced, uncomfortable, and so specifically designed that you'll never wear them again.
I spent nearly $100 on my shoes (and that was with a 50% off coupon), but they were simple, off-while Italian-made leather strappy sandals. I've already worn them a couple of times since the wedding, and they'll stay in my wardrobe for years to come.

The wrap up:
All in all, I'd say my ensemble was quite effective. With shoes ($90), veil ($15), alterations ($40 for shortening and brooch removal) and dress ($380 purchased in Pennsylvania, where there is no sales tax on clothes, woo!), my wedding day ensemble came to a grand total of $525. And, real talk-- I didn't feel a penny short of a million dollars.