After a hiatus of a few years (!), it's time for another roundup of recent material acquisitions that have made me happy. You can read earlier entries here.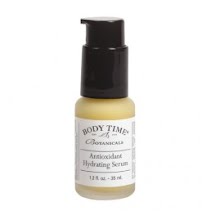 Body Time Antioxidant Hydrating Serum
I have dry skin, so I moisturize, big time. My husband calls my bedtime ritual of slathering my face in cream "the oil spill." But thick creams and oils aren't great underneath daytime SPF and makeup, so I had just gotten used to having a slightly parched face by the end of the day.
Until I found this! This stuff is so great. It soaks in quickly, so it is both lightweight on the skin and deeply moisturizing. All killer no filler. It smells nice, but doesn't have any artificial fragrance -- just a nice botanical scent from the actual ingredients. It's not cheap cheap ($34 for a small bottle) but it's way less than you'd spend on something similar at Sephora. A little goes a very long way, and once you have the pump you can buy refill bottles. I like how you can actually open it and get every last bit out (no overly clever packaging here.)
Body Time is based in Berkeley, and going into its store is basically like I'd imagine it was to visit the original Body Shop back in the 1970s, before it went all corporate. Just plain packaging and good all-natural stuff. Oh also! They make this fragrance called China Rain, which JLo is pretty much understood to have ripped off when she created Glow. I have the refresher. It smells fresh and cleanly attractive, and you can spray it everywhere, in rooms and on clothes, whatever. Like Glow but way better.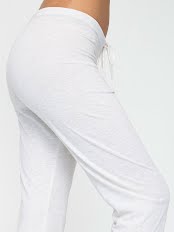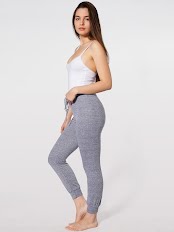 American Apparel Tri-Blend Leisure Pant
These are a great pair of what my friend Laura calls "inside pants." They are super comfortable while being decently cute -- they hug your hips a bit, are just baggy enough in the legs, and come in at the ankle so they don't drag on the ground or look sloppy. (The picture on the right makes them look both tighter and higher-waisted than they are, FYI.) I have the gray ones and the tri-black ones -- the latter can even pass as very casual outside pants, for grocery runs etc. They're made in the USA, which is a huge plus. Overall, a big upgrade from the $5 Forever 21 leggings that I wore for 10 years until they became see through.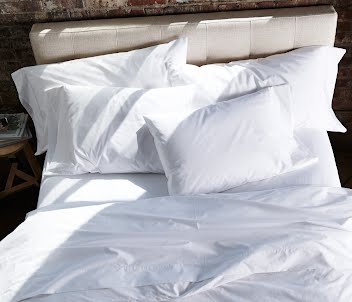 Long story: One of the weird things about getting older has been developing a keen interest in things I'd previously found terribly boring, like upholstery. And bedding. In college I was happy with pilled "t-shirt sheets" that I was lucky if I washed once a quarter. These days I'm a stickler about washing my sheets weekly, and daydream about the perfect bed. I look at pictures of Yolanda Foster's Malibu mansion and rather than focus on the view (and the absurdity of a $30 million house) I zoom in on the bedrooms, trying to figure out what sheets she uses. It's an obsession.
To my dismay, I've discovered that top-tier sheets cost way beyond what I could ever justify as a "splurge." Like, $2740 for an Italian-made queen set. The best deal I could find was around $800. Just way beyond too much.
Brooklinen to the rescue! Brooklinen is a startup that promises the type of luxury bedding you'd find at a hotel like the Four Seasons for the relatively lower cost of $100 a set. According to the company, the lower price is possible because Brooklinen employs the kind of lean business model made famous by Everlane.
At first I was dubious. Since its website did not say where the sheets were made, I wondered if they were contracted from East or Southeast Asia, which is a concern to me because of the various labor and human rights issues with the garment business there. Nosy nebby that I am, I called Brooklinen's customer service department, and a man named Rich answered, who happens to be the CEO! He told me that Brooklinen makes its sheets in Israel, with Egyptian cotton. (I'm not sure why this info isn't on the website, but perhaps the company wants to stay out of political discussions.)
Rich told me: "When we sourced our sheets we wanted to be in the $100 to $200 range with the best possible fabric, and ruled out East Asia, as we didn't want to let our customers down by implying we went with the cheapest production strategy possible... We explored Italy and found that most of what you pay for there are legacy costs of older infrastructure and workers, in addition to the 22% tariff on woven goods exported from Italy. We could have gone there, but felt the product would be inferior and price would be higher."
Long story short: I ordered a set of these classic percale sheets, and they are easily the best I've ever owned: Crisp, cool, soft, luxurious. My husband recently said unprompted in the middle of the day, "Those new sheets are the best" (maybe he is catching the bedding obsession too?) I just ordered another set, and will probably get rid of my old sheets altogether, since now I only look forward to sleeping on the Brooklinen ones. Highly recommended.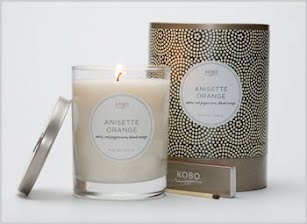 Kobo Candle in Orange Amber and Anisette Orange
I will be so sad if either of these candles are ever discontinued! Both of these scents are good year-round, and smell distinctive in a vaguely expensive way -- not just a simple floral or fruit -- without being overpowering. At $38, they are not cheap, but they last a very long time, are made in the USA, come in a pretty box along with matches, and are a nice indulgence for yourself or as a hostess gift. It is soy, so it burns nicely and you can easily clean it out at the end and keep the glass.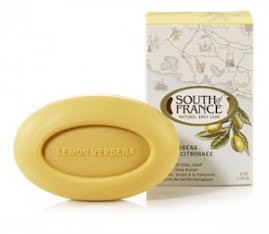 South of France Lemon Verbena soap
When I was buying a few more bars of this recently at my local grocery store, the cashier said, "Wow, these smell amazing! Ooh, I'll have to buy some." It's also all vegetable and free of stuff like parabens, so it lathers well and is not too drying. Another of of those things I like so much that I'm scared for it to ever be discontinued.