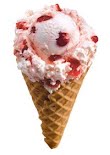 One thing I've learned over time, as cliche as it sounds, is that it's the simple things that count. An excerpt from a chat today:
[Friend]:
i just remembered i have some ice cream in the freezer
[Friend]: my life just got better
N.B.: What you're reading above is genuine elation, and genuine envy.
N.B. 2: We're currently in the midst of one of those brief, very infrequent San Francisco heat waves. But I'd hope that I can be so easily pleased even about subjects other than ice cream, at times when it's not 90 degrees outside.