A couple years ago I signed up for an account with
Pandora Radio
-- "the personalized internet radio service that helps you find new music based on your old and current favorites." The concept sounds great-- type in the name of a song or artist that you like, and discover new songs and artists that might also appeal to your tastes.
My Pandora subscription has gone largely unused, though-- the truth is, I just am not as keen to the process of "discovering" new music as I was back in the halcyon days of high school and college, when I'd rummage through BitTorrent for hours finding new stuff.
But! I fell in love with Pandora in earnest for the first time Sunday night, when it dawned on me that there
is
a place for its technology in my musically unadventurous life. In a moment of clarity, I totally hit the jackpot when I formed a station based on Madonna's 1989 hit
Cherish
.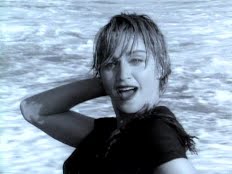 Just to jostle your memory: Screenshot from Madonna's Cherish video, shot by Herb Ritts
I mean, I kind of feel like I'm gaming the system by not using Pandora to find cool new fledgling artists and albums-- the Cherish station is 100% old songs that I know every word to but would never think to download. Am I the last person to the Pandora party to use it like this?
Well, seriously: If you haven't already, make your own station based on Cherish and try to tell me it's not the most fantastic thing to happen to your guilty pleasure cortex since Beyonce's
Single Ladies
video debuted last month.