So, I have mixed feelings about writing a totally consumer-oriented blog post in an economy like the
current one
, but at least I have someone to blame for it: Mindy Ephron (aka Mindy Kaling aka Vera Chokalingam).
For whatever reason, she has not updated her amazing, addictive
blog
in over 2 months-- and I am going through serious withdrawals! In its absence, here is my own starter list of Things I've Bought That I Love.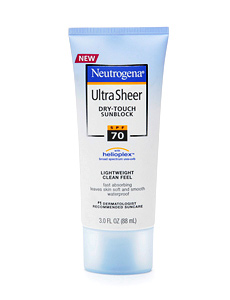 Neutrogena Ultra Sheer Dry-Touch Sunblock, SPF 70

In the words of Ms. Kaling herself: Oh my God, you guys. This stuff has completely changed my life since I first discovered it in Walgreens last year. For, like, 10 bucks a bottle (which lasts for months) I can hang out in the sun all day without doubling the freckles on my nose! What a concept.
Seriously: even though I vowed three years ago at the age of 21 (while on vacation in the Greek Isles, of all places) that I had officially gotten my last tan, ever, I am still always worried about the wrinkles, sunspots, melanoma, and worse that could result from my youthful sun-related indiscretions. Wearing this stuff every day makes me feel like I'm atoning for those foolish years my Anglo self was trying to keep up with the "golden tan in time for prom" standard set by all those beautiful, olive-skinned Italian girls that populated my high school back in Western PA.

Maybelline Express Finish nail polish in Blushing Bride

I was turned off the first time I tried Maybelline Express Finish nail polish in the late 90's-- I thought the 60 second drying time didn't make up for its dullness and terrible staying power. Oh my God, you guys. If you doubted this stuff at first, you must RE-CON-SI-DER. I bought a bottle of Express Finish earlier this year in a manic rush en route to a meeting when my nails were just a plain-looking mess. I'm happy to say I finally discovered the key to Express Finish love: buying the right, neutral, sheer color.
In the months since I made this re-discovery, I'll be damned if I'm ever *not* sporting Express Finish on my finger nails (for toenails, I defer to professional help.) It lives up to the claims of taking just 60 seconds to dry, and even if it does chip a bit after day 2 or 3, the color is so neutral that imperfections aren't all that noticeable. If you'd like to have shiny, pretty nails all the time, but think you are too busy for anything but the dreaded "bony, unpolished" fingers of Selma Blair's character in Legally Blonde, this stuff is so for you.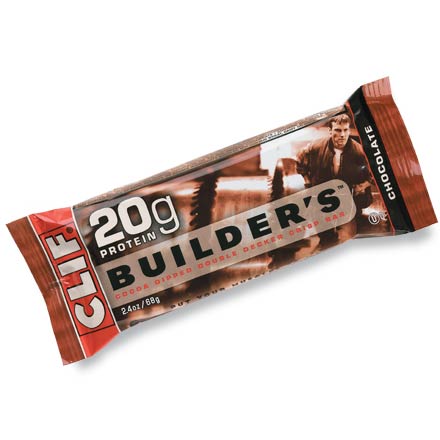 Clif Builder's Bar Protein Bar
Numbers are worth a thousand words:
270 calories
20 grams of protein
And DELICIOUS. Like, light-years beyond any protein-heavy bar made thus far by the likes of Pro-Max. I have probably eaten an average of 5 Builder's Bars per week since they hit shelves earlier this year, and have not gotten sick of them yet. My personal faves: peanut butter and vanilla almond. Yummmm, protein.