RIP, my unconditional love for
7 for All Mankind
jeans. We had a good run.
Poking around some shops yesterday, I looked into buying another pair of Seven jeans. Sevens are definitely pricey (around
$165
a pair full-price) but in the past I've always found them to be worth it. The denim is really high quality- thick, soft, really luxurious feeling- the colors are rich, the fit is flattering, and they hold up for years and years.
All the Seven jeans I've owned were made in California. I was under the impression that the primary reason Sevens are so expensive is because they're made here in the US. As you
may
know
, I'm happy to pay a premium for things that are made here.
But the Sevens I saw for sale yesterday felt very different from ones I've seen before-- the material was flimsy and rough, and something about the fit was off. They just seemed cheap. Then I looked at the tag, and cursed out loud.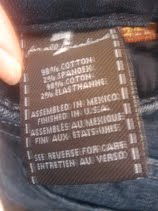 The Seven jeans at the store (apologies for blurry camera phone photo)
I was really surprised to find that Seven has started making (or "assembling", whatever that means) at least some of their jeans in Mexico. 7 for all Mankind has been in business since 2000; why would they start
offshoring
to boost profits now?
Well, a quick web search confirmed that Seven has gone
the way of Nature's Gate
: In mid-2007 the company was acquired by
VF Corp
., a publicly-traded apparel conglomerate, and cost-cutting changes ensued (stock market shareholders can be a pretty demanding bunch.) Of course, Seven hasn't passed down any cost savings to the customer-- the price tag on this pair still read $165. VF doesn't break out profits brand-by-brand in their earnings reports, but I have to imagine that they really started making a killing, margins-wise, when they shifted Seven's production south of the border. I mean, most
Levi's
are
made in Mexico
, and those retail for $50 or less.
Apparently there are still some Seven brand jeans made in California, but they're sold mostly on Seven's website and in the brand's own boutiques-- which makes sense since they don't have to pay any retailer fees there. I guess it's good that some pairs are still being made here, but it's a bummer that I'll have to be a stickler about checking tags going forward.
So the search for ethically-manufactured jeans that I enjoy wearing resumes (sorry, American Apparel, you fit the former requirement but
definitely not
the latter.) If anyone out there is interested in starting a company and sticking to their original principles, I swear I'll be a loyal customer!